GUEST EDITORIAL: Helen Sullivan "God Is Good"
You know those times where all you have is God? Those times when even though your closest friends and family are around you, you know in your heart of hearts God is the only one who can truly meet your needs? It was like this when I was 30, pregnant with my oldest child and my very healthy mother was suddenly diagnosed pancreatic cancer. She passed away three months later. It was like this when I heard a funny noise and turned around to see my five month old daughter with a blue bottom lip, foaming at the mouth and despondent. As the firemen came and then the paramedics, we were told she was having a febrile seizure and had a 105.2 fever! It was like this when I had my second daughter's first ultrasound and the doctor told us she had a tumor on her brain. If it didn't go away before she was born, she would die before she turned one. It was like this when we were told at my son's three month check-up that he had a deformed hip. All I could think was how could it be that my son would be the only one of my three children who would be unable to play sports?
It is in times like these that we cry out to God. And God is there for us. Psalm 34:18 says, "The Lord is close to the broken hearted and saves those who are crushed in spirit." Isaiah 40:11 says, "He tends his flock like a shepherd: He gathers the lambs in his arms and carries them close to his heart; he gently leads those that are young." When we are brokenhearted and crushed, God holds us near, close to his heart. This is so comforting. Matthew 6:25-34 says God wants to provide for our needs. He desires to help us.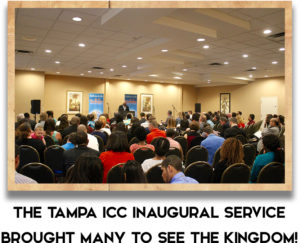 How is it then that so often we can think God doesn't hear us or that he doesn't care about us? We can even think he has forgotten us. This is so far from the truth. Recently I was trying to make sense of things that were going on in my life, and I started wrestling with Matthew 7:9-11. "Which of you, if his son asks for bread, will give him a stone? Or if he asks for a fish, will give him a snake? If you, then, though you are evil, know how to give good gifts to your children, how much more will your Father in heaven give good gifts to those who ask him." I had begun feeling like every time I asked God for "bread", He gave me "stones" and "snakes". Literally, every time I prayed about something going on in my family, for help with a family situation, it got worse. I didn't realize it at the time, but to my shame I began to believe that when I asked for good things, for help with these very difficult situations, God gave me "bad things" and the situations "got worse". So I stopped asking God for help. I reasoned that if I ask for things to go better and they go worse, I should just stop asking! In my mind I convinced myself I was growing in my trust of God. If things got worse when I prayed about them, maybe I need to just be grateful that the situations were not "that bad". But as I prayed less and less about these things, I saw my faith weaken. I realized I wasn't "praying less" because I trusted God more. I was praying less because I feared that God would make my life worse if I kept asking him to help me and take care of me and my family.
As I reread Matthew 7 this week, I remembered 2 Peter 1:20-21 which says that the Bible is the Word of God, and there is no private interpretation of any scripture. So if Matthew 7 says God, who is kinder and more caring than we are, gives us "bread", "good gifts", when we ask, who was I to claim God was giving me "stones" and "snakes"? I reasoned that God's answer to my prayers had always been "bread", "good gifts"; I just couldn't see the "bread" yet! As I read Jeremiah 33:3 which says, "Call to me and I will answer you and tell you great and unsearchable things you do not know" I was inspired! Not only was God answering my prayers with "bread", but also if I called out to Him, He would show me how his answers were "good". He could help me understand these "greater things" I couldn't understand on my own. This built a deeper trust between me and God.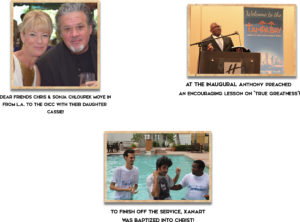 Sometimes we forget the basics. God is a good and loving. He wants the best for us. He wants the best for our families. He wants the best for our friends. Jeremiah 29:11 says, "'For I know the plans I have for you,' declares the Lord, 'plans to prosper you and not to harm you, plans to give you a hope and a future.'" When we start doubting this, we start distancing ourselves from God. It is then that we have to remember what God did in our lives, what he saved us from. Psalm 40:2-3 says, "He lifted me out of the slimy pit, out of the mud and mire; he set my feet on a rock and gave me a firm place to stand." God didn't save us from our past lives, from our sin, to then give us "stones" and "snakes" when we pray to him and ask him for help! That makes no sense!
I was reminded of God's goodness this past Sunday as Matt and I were honored to be able to attend the inaugural service of the Tampa Bay International Christian Church. God blessed every aspect of the service. The 22 member Tampa church had prayed fervently for God to bless them with over 125 people at their inaugural service. They had 126 in attendance! The Orlando church also begged God to bless the Tampa service, and 21 Orlando disciples were able to attend and bring out 19 of their dear friends and 12 children to enjoy the service! One of my dear friends, Fanny Perdigon, the mother of Lynda Moreno who leads the Sao Paulo church with her husband Raul, came with us to the service and loved it! She said, "This service was amazing! I understood everything Anthony said!" This was indeed a great feat as her dominant language is Spanish, not English! There were many other answered prayers on Sunday. Elena McKean had prayed consistently that Cynthia, her best friend from kindergarten through eleventh grade could attend the service, and she did! Tia Turner, the women's leader in the Gainesville church, asked God to bless her with a guest and an old college friend who she hadn't seen in more than five years came out to the service. And lastly, Sonja Chloupek, who just moved to Orlando from Los Angeles, called a friend she hadn't seen in 25 years and she came out to the service!
So today as we hear God's Word preached, as we try to seek Him out and understand Him, let's remember that God is always there and He always answers our prayers with "bread".
In him,
Helen Sullivan