The Mandate For World Evangelism (Parts 3 & 4)
May 5, 2013
Special Guest Editorial by Kip McKean
Part III: The Lost Plan
Hilkiah the high priest said to Shaphan the secretary, "I have found the Book of the Law in the temple of the Lord. "Go and inquire of the Lord… for the remnant in Israel and Judah about what is written in this book that has been found. Great is the Lord's anger that is poured out on us because our fathers have not kept the Word of the Lord." 2 Kings 22:8, 13
During the reigns of Manasseh and Amon, God's people drifted so far from Him that they lost the Book of the Law! Most scholars believe this "Lost Book" was Deuteronomy! After King Josiah's zeal for God began the restoration of the temple, the Book of the Law was found by the High Priest in the temple! When the Spirit-filled words of this book were read to Josiah, he tore his clothes, wept and asked the Lord, "What are the consequences for not keeping the Word?" Because of his humility and brokenness, God gave him and his people mercy. Motivated by this mercy, Josiah's restoration movement becomes even more radical. Of primary importance, he unifies the remnant by initiating a public renewing of God's covenant as found in the lost Book, first with the elders and then with all the people. Guided by Deuteronomy, radical sweeping changes now rapidly occur in worship and life. This culminates in the greatest celebration of the Passover ever! (2 Kings 23:22)
For us over 2600 years later, it is almost unimaginable that our "brothers of faith" could have lost the entire Book of Deuteronomy! In our day, something especially shocking has been lost; God's plan to give everyone on earth the opportunity to be saved. Truth: Jesus is God's only path for salvation. (John 14:6) Truth: there is only one Biblical response to be saved – faith, repentance and baptism. (Acts 2:38)
However, hidden in God's Word for centuries, most have lost God's only plan to save the entire world in a lifetime – the multiplication of disciples. Truth. This plan is fully revealed through the three year ministry of Jesus. From the beginning of his ministry, Jesus knew He was the hope of both Jew and Gentile – all who were "poor…prisoners…blind…and oppressed." (Luke 4:18) The very mention of this radical vision in His home synagogue in Nazareth at the beginning of His ministry resulted in an uproar and a brutal attempt to kill Him. (Luke 4:28-30)
After this incident, Jesus traveled "throughout Galilee preaching the good news of the kingdom." (Matthew 4:23) Many followed him from Judea, Jerusalem, the Decapolis, and the region across the Jordan! He preached to the masses. True to His Father's vision, Jesus made disciples. After about six months, Jesus went up on a mountain where he prayed all night for one of the most crucial decisions of his ministry. In the morning, "He called his disciples to Him and chose twelve of them" (Luke 6:13) He called them apostles – "messengers" – "that they might be with Him and that He might send them out to preach." Jesus was not only training preachers, but by revealing God's principle of focusing on a few, he was discipling as a group the future leaders of a new kingdom. By walking with Him daily the Twelve learned the Word of God and saw how to preach effectively. Equally as important, they saw how to impact individuals. Interestingly, in John 4:1 the Pharisees note that Jesus was baptizing more disciples than John. "Although in fact it was not Jesus who baptized, but his disciples." Different than John the Baptist as well as in modern denominations where only the preacher wins souls, Jesus was multiplying His effort with the Twelve doing the baptizing, not Him.
The Twelve, after watching Jesus call people to repentance as well as perform miracles, were sent out two by two to preach the Word and cast out demons! (Mark 6:7) Gradually Jesus calls the apostles to do more and more on their own. The apostles represent a second generation of disciples. By Luke 10 Jesus appoints 72 others to be preachers of the Word, admonishing them, "The harvest is plentiful, but the workers are few." This is an interesting number. Perhaps Jesus allowed the six pairs of apostle to be the leaders of their own twelve! This would have allowed the paired apostles to begin to replicate how Jesus had walked and worked with them!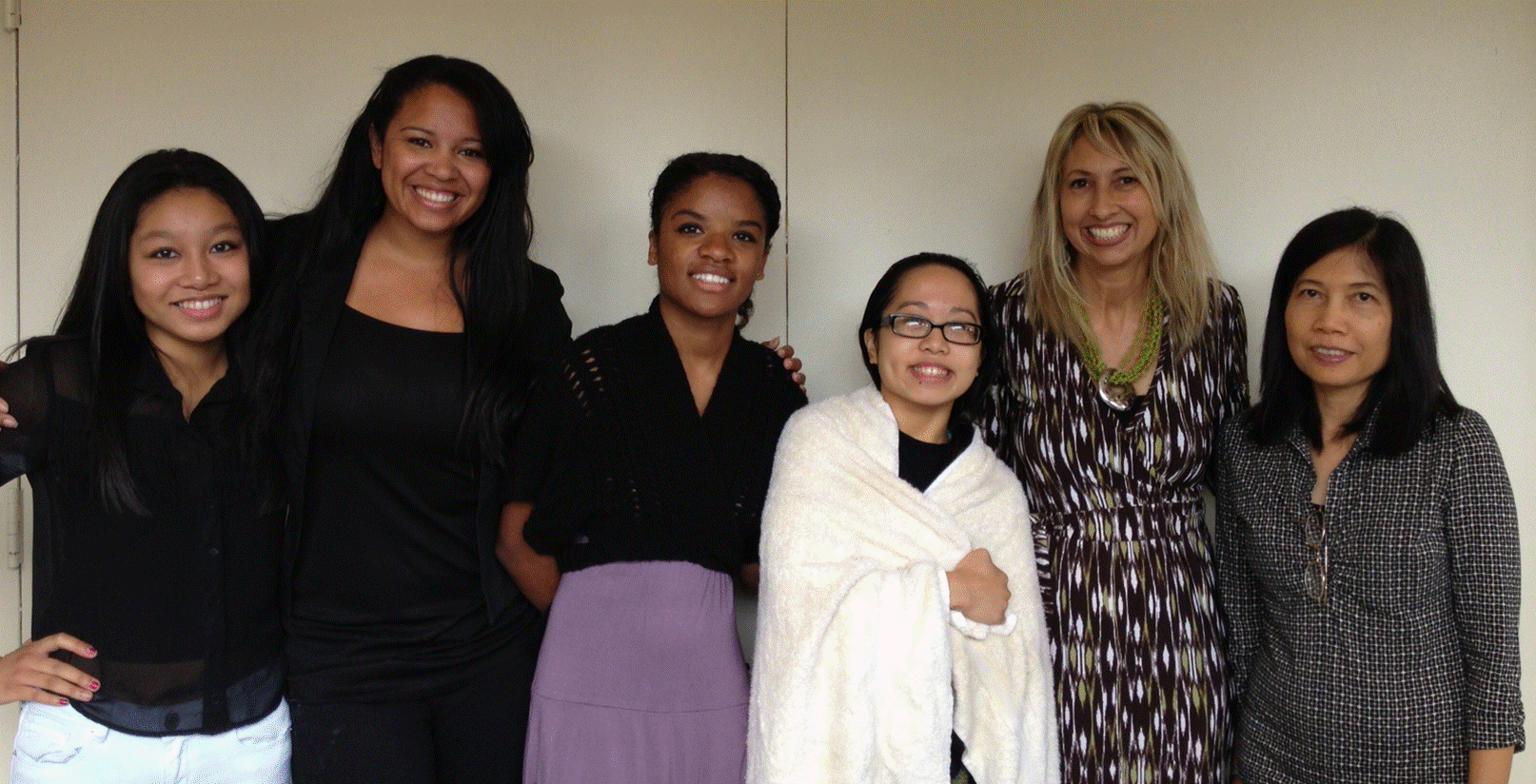 Christine Pabelico (fourth to the left) was rejoicing with her physical and spiritual family as she entered the waters of baptism!
When the seventy-two returned to share about their successes, they were fired up! (Luke 10:17) After this time of sharing, Jesus pulled the Twelve aside privately. He says, "Blessed are the eyes that see what you see. For I tell you many prophets and kings wanted to see what you see, but did not see it." He wanted them to mark this momentous moment of the multiplying of a third generation of disciples! Though slow and numerically few, His every effort was intended to build a movement that would change the world.
After His resurrection, Jesus returns to Galilee where He gives the Great Commission, "Go and make disciples of all nations baptizing them in the name of the Father, and of the Son, and of the Holy Spirit and teaching them to obey everything I have commanded you…" (Matthew 28:19-20) Implicit in this command is a teacher-student discipling relationship. It begins before baptism and then continues afterwards, as we are to teach each other to obey the commands. However, if one studies the ministry of Jesus, we see other types of discipling relationships. Jesus set up adult-adult relationships by pairing up the apostles as well as "group discipling" by Jesus, the leader of the group. The apostles were commanded by word and example to put into practice all of these types of discipling relationships.
After Jesus' ascension, in 29 AD, the faithful numbered 120. This included the Twelve, the 72, Jesus' mother and brothers and the women followers of Jesus. (Acts 1:14-15) No doubt, this group believed in discipling and on their first day of preaching, 3000 were baptized! Three thousand new disciples were "added to their number" The unique power of the movement of Jesus was His call to be as committed as Him and to put into practice His ministry of discipling. From this point the number of disciples exponentially multiplies! "The Lord added to their number daily those who were being saved" (Acts 2:47)"The number of men grew to about 5000…" (Acts 4:4) "Nevertheless more and more men and women believed…and were added to their number." (Acts 5:14) "In those days where the number of disciples was increasing…" (Acts 6:1) "The number of disciples in Jerusalem increased rapidly…" (Acts 6:7) "The church [the movement – no autonomy] throughout Judea, Galilee and Samaria… grew in numbers…" (Acts 9:31-32) "The Word of God continued to increase and spread…" (Acts 12:24) "They spoke so effectively [in Iconium] that a great number of Jews and Gentiles believed." (Acts 14:21) "So the churches were strengthened in the faith and grew daily in numbers." (Acts 16:5) "These are the men who have turned the world upside down for Jesus!" (Acts 17:6 RSV) By 62 AD, Paul writes the whole world has heard. The whole world had been evangelized!
Today many churches in the ICOC fellowship have either abandoned discipling relationships or compromised them by teaching there is no such thing as teacher-student (one-over-one discipling) relationships in the Scriptures. This is devastating false teaching. (2 Timothy 4:1-4) No wonder so many disciples are confused, lonely, lukewarm and lacking zeal for souls. One person teaching another is the essence of the method and ministry of Jesus. Let us not forget Josiah's humble response to the words of the lost Book of God. His concern was that God is angry when we fail to obey his Word. Making disciples is a command of God for every true Christian. Jesus built God's movement on the now lost plan of multiplying disciples. It was and still is the only plan of God to evangelize the world. And to God be the glory!
---
Part IV: Christ's Love Compels Us
"For God so loved the world that he gave His one and only Son, that whoever believes in Him shall not perish but have eternal life." (John 3:16) God's love for a lost world is utterly incomprehensible. God loves lost souls so much that he sent Jesus to die for all sins of all mankind of all time. Our appreciation of this "amazing grace" is directly proportional to how much we are motivated to live the Christian life. (1 Corinthians 15:10) In motivating each disciple in Corinth to become passionate ambassadors for Christ, Paul writes, "For Christ's love compels us, because we are convinced that one died for all, and therefore all died. And he died for all, that those who live should no longer live for themselves but for him who died for them and was raised again." (2 Corinthians 5:14-15) Paul continues and exhorts the Christians to no longer look at people from a worldly perspective – we must see those around us as hurting and lost. Paul reasons that we who are in Christ have become "a new creation, the old has gone, the new is come;" therefore he admonishes, "Since God reconciled us to himself through Christ, he then gave us the ministry of reconciliation." (2 Corinthians 5:18) It is interesting to note in 2 Corinthians 5:19 that "God was reconciling the world to himself in Christ … and he has committed to us the message of reconciliation." Paul is saying, yes, Jesus died for the entire world's sins, but God has given the responsibility to win a lost world to disciples – we all have become ministers of reconciliation! In denominational churches, only the paid staff are ministers. In churches composed of disciples, every member should be a minister!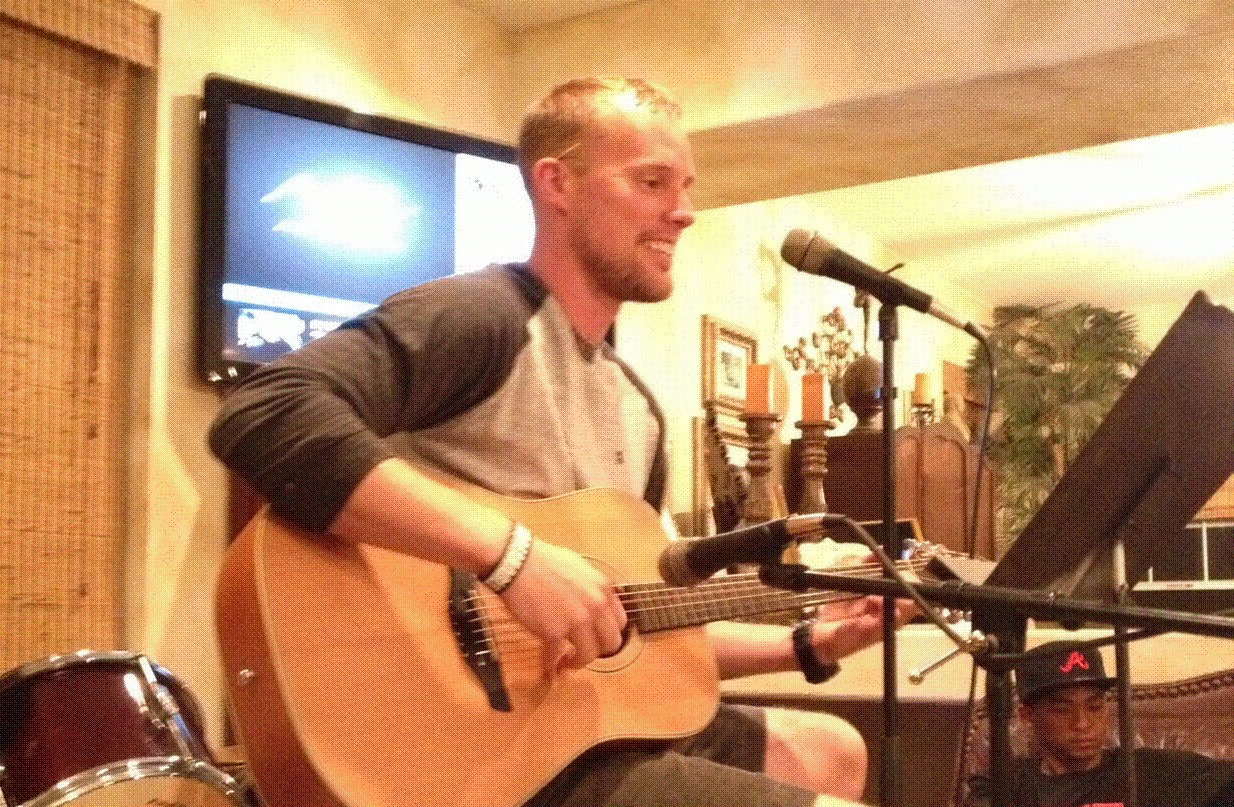 Brady Vaughan rocking it out at the AMS-Network's Open Mic Night
In Chapter 6:4-9, Paul pointedly shares the price he has paid to preach the Word, "Rather, as servants of God we commend ourselves in every way: in great endurance; in troubles, hardships and distresses; in beatings, imprisonments and riots; in hard work, sleepless nights and hunger; in purity, understanding, patience and kindness; in the Holy Spirit and in sincere love; in truthful speech and in the power of God; with weapons of righteousness in the right hand and in the left; through glory and dishonor, bad report and good report; genuine, yet regarded as impostors; known, yet regarded as unknown; dying, and yet we live on; beaten, and yet not killed." This is the price to be a servant of God, a minister of reconciliation, an ambassador of Christ – a disciple. By no means does this earn our salvation, but it should be our response to receiving God's grace.
If our family of churches is going to evangelize the world in our generation we must go back to the cross. When we remember how much we have been forgiven, then our evangelism, sacrifice, lifestyle and relationships will be motivated out of this overwhelming appreciation for God's grace. Today, too many churches preach a message of "cheap grace." Cheap grace says, "Just feel good that you are saved; after all you are not saved by works." True, works do not save us, but grace cannot be without effect. (1 Corinthians 15:10) Church leaderships with the theological persuasion of cheap grace, will not call church members to spend time with God every day or to be involved in one another's lives by discipling, by obeying the "one another" passages. These members simply come to church when "they feel like it." In many of our churches, the preachers are not calling their congregations to go out and share their faith. There is simply a lukewarm commitment. Where there is lukewarmness, we can be sure the Word and God's grace are not being preached. (Revelation 3:14-21) Cheap grace is only a Satanic fake of salvation. One can lose the grace of God. In 2 Corinthians 6:1 Paul admonishes, "Since you are God's fellow workers do not receive God's grace in vain."
Today, sadly in most autonomous congregations, preachers are afraid to preach the truth, some because they themselves are confused by Satan (John 8:43-45) and do not have a clear message. Others hold back from fear of church boards, elders, the people, and losing their jobs. (Where do we find preachers restricted in the Bible?) These same preachers and members alike pull back out of suspicion and cowardice from fellowshipping some churches because they do not want to be associated with controversy which always comes with the radical call of grace, commitment and discipleship. They selectively preach Scriptures that do not challenge the people, and just as in Jeremiah's time God says, "my people love it this way." (Jeremiah 5:31) In many parts of the United States and the world, disciples report that their congregations have little fire in the services, with little zeal in their singing, little discipling, little warmth, and very few baptisms. Last week a visiting disciple to Portland shared his thoughts about being in the service. He said, "This is so refreshing. I have not been in an exciting worship service for so long. I'm moving here because this is the church I was converted in!" If we are to win the world, preachers must preach the Word at any cost, just like Stephen, just like Paul, just like Jesus.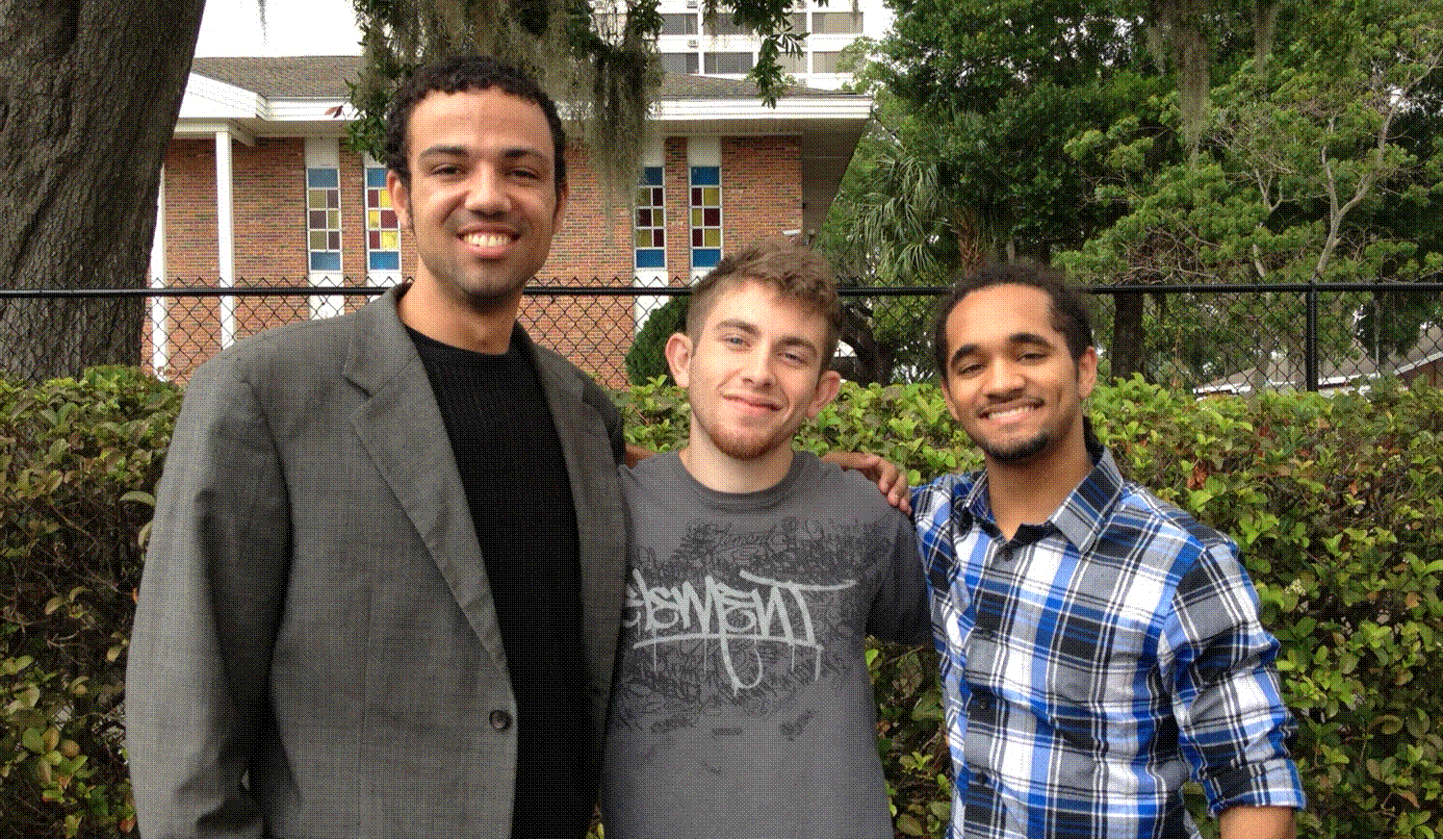 With jubilation, Aaron Brooks (middle) celebrated as he became part of God's Kingdom!
Let me once again acknowledge and apologize for any sins whether intentional or unintentional (Leviticus 4) that I have directly or indirectly caused for any who are involved in discipling relationships. It is true that many of our churches drifted from preaching the cross as a disciple's preeminent motivation. Numbers were too often used to motivate people to evangelize and it crushed them. Discipling became too authoritarian and controlling. We drifted from teaching obedience to the Word of God, to immature (and many mature) disciples calling for obedience to their opinions. Also in many cases, we failed to change the dynamics in the discipling relationships as people grew older physically as well as in the faith. In all discipling relationships, there should be a gradual shift from a teacher/student, mentoring dynamic to an adult-adult relationship. However, now is the time of forgiveness and not a bitter reaction or rejection of God's only plan to win a lost world – "making disciples." (Matthew 28:19) Remember, unrepentant bitterness will cause you to lose the grace of God. (Hebrews 12:15)
In the Portland Church, the leadership teaches that God expects newly baptized Christians to be in teacher/student discipling relationships. The very term disciple means student or learner! Carpenters have apprentices, doctors have interns, athletes have personal trainers and coaches, high school students have tutors and mentoring programs, and we believe the key to remedy and prevent further hurts is choice.
In Portland we teach from the Bible that everyone is expected to be in discipling relationships. (We call these Discipleship Partners.) However, each member chooses how many, who it is, and the two of them define whether the relationship will be more teacher/student or adult/adult. Also every week, the leadership expects each member to be in an evangelistic, discipling group – Bible Talk. However, once again each member chooses the Bible Talk in which he or she will participate.
One person once wrote, "To Jesus there was no difference between domestic and foreign missions, all was world evangelism." As disciples we must individually and collectively humble ourselves before the cross. This will unleash the inexhaustible motivation of grace. Then and only then will we be the lifelong ministers of reconciliation God has called us to be. Disciples are God's only plan to win a lost world. And to God be all the glory!
Kip McKean